Blank is an elegant, minimalistic Wordpress theme with ultra-clean design and strongly focusing on content. It's a good choice for blogging with all standards: Responsive, Retina-ready, Translation ready, Simple, Clean and Effective. It's also easy to setup and you can publish your content right after installing theme. No need more coding or something else.
WordPress 3.6 ready
Blank has been updated and tested with WordPress 3.6 and was totally compatible. It's ready to use for all WP 3.6 features including self-hosted video.
Ultra Fast
Tested with Pingdom Tool, it loads about 2-3s. Awesome? 😉 We DO NOT use any caching plugin. Why it's so fast? Because every Javascript file is compressed and loaded only when it is needed, codes are also optimized. Test it yourself.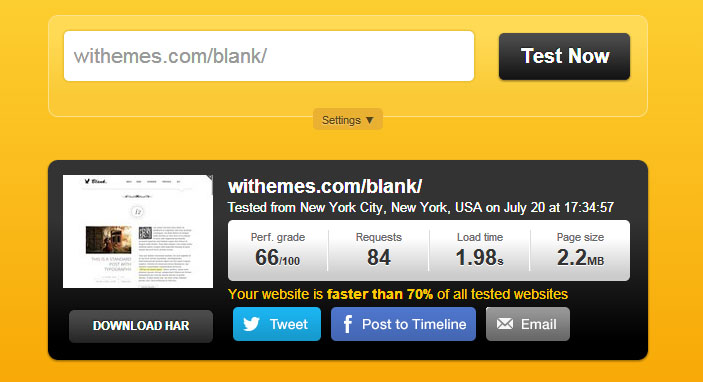 Seo Optimized
Blank is good for SEO by reasons:
It's light-weight and super fast. Of course, Google and your audiences like fast websites
Content is always loaded first, sidebar is later.
HTML5 ready, all HTML5 tags are used strictly
Heading tags are used in order. H1 for post/page title. H2's come after H1. H3's come after H2 and so on…
All images come with alt attribute.
Easy to use

Key features
WordPress 3.6 ready and self-hosted video, audio are supported.
Responsive: looks well on all devices like iPhone, iPad or large screen. Sliders also work well with touch and swipe gesture.
Retina ready: It looks beautiful on high-resolution screens like those found on the iPad, Kindle Fire HD, Nexus 10, and MacBook Pro with Retina Display
Translation ready: Blank has included default.po and default.mo files. You can easily open and edit to turn your site into any language you want.
Extensive options: Nearly 100+ options, change the color and font on the fly. You can enable or disable almost everything.
SEO Optimized: Designed in HTML 5 and CSS3 with optimized code. Not only your visitors but Google loves this theme awesome fast speed.
Clean and elegant design: Minimalistic design focused on readability. It's really effective for blog with long posts/heavy content.
Useful shortcodes: Easy to insert with TinyMCE button integrated.
3 portfolio layouts: 2, 3 or 4 columns and you can choose to crop thumbnail or not.
Video Supported: Both in blog and portfolio.
Vertical Featured Image supported. Indeed, you have option to crop or not your featured image in each post. Thus, it looks beautiful regardless your featured image size. It's great even your post has no featured images!
JetPack compatible: Has been tested with JetPack. Bring all great features of JetPack to your site with no troubles.
Unlimited colors: With color picker in admin panel, you can change the color easily.
500+ Google fonts: Just choose the font you love.
Custom Logo upload: Header and Footer logo and their Retina version as well. Also, you can upload favicon, Apple touch icons…
Post types supported: Standard, video, audio, gallery, link, quote. Everything you need for a blog. 😉
6 widgets included: including Tweet widget with updated v1.1 Twitter API. All widgets are polished so they look greatly!
Colorbox lightbox integrated
Icons: Nearly 400 icons in use width 33 social icons.
Awesome dropcap with "Alphabet of Children" font.
Built with Bootstrap: Using popular Bootstrap framework, you can easily edit if you have some coding skill.
One click installation: This theme has been included a demo.xml file, that helps you to you turn your site amazing as the demo site by one click.
Well documented
Dedicated Support and lifetime upgrade
Credits
Special thanks to Pixabay, Jørgen Grotdal and Nicolas Jolly for images used on the demo site. These images are not included in the theme.
Changelog
August 16, 2013
- fix small excerpt issue in WP 3.6
- add RSS option for footer icons
- Update Contact form 7 plugin.
Version 1.3.2 – August 14, 2013
- add self-hosted video and audio support for featured display and in post options.
- fix some small css issues.
August 08, 2013
- Change a little CSS comment form label for plugin compatiblitity 
- Add missed decoration@2x.png for Retina CSS
Version 1.3.1 – August 03, 2013
- change  shortcode to  shortcode to avoid builtin  shortcode of WP 3.6
- make theme compatible with WordPress 3.6
Version 1.3 – August 01, 2013
- add many options for portfolio: layout, video, thumbnail...
- add metabox plugin to Wi:Portfolio shortcode
- move portfolio options from theme options to page options
- add iconbox, recent posts, recent portfolio shortcodes
- update demo.xml, language file and documentation
Version 1.2.3 – July 27, 2013
- fix footer logo issue
- add option for thumbnail position in medium layout
- add more options for social footer links
- add homepage & email icon options to social options
- add option to display placeholder or label in comment form
- add option to display small arrow or not for blog post thumbnails
Version 1.2.2 – July 25, 2013
- add !function_exists to all functions to prevent conflicting
- make scrolltop button responsive
- add portfolio excerpt length option
- add functions to portfolio plugin so it can be used with other themes
Version 1.2.1 – July 24, 2013
- Fix nav menu error on mobile 
- Fix body padding right on mobile 
- Update credits on Documentation 
- Update newest demo.xml
Version 1.2 – July 21, 2013
- Include portfolio plugin in theme via TGM
- Redesign Portfolio
- New demo.xml file
- Options for portfolio
Version 1.1 – July 19, 2013
- Add portfolio plugin
- Fix small issues
- Update demo.xml
Version 1.0 – July 17, 2013
- Initial Release
Support